Applying cognitive automation in Health and Social Care
There is a vast potential in administrative and clinical processes for health and social care automation. The main reason our customers invest in automation is to create more hours for meaningful work, increase patient safety and improve quality. Digital Workforce is the leading provider of process automation in Health and Social care globally: we have automated over 300 processes. We have a dedicated health team, including deep expertise in medicine, process learning, robotics, and AI.
Intelligent Automation in Healthcare
5 Client Success Stories of Innovative Healthcare Facilities and Hospitals, who have streamlined their way of working by augmenting their existing human workforce with digital workers.
Increase the return from RPA investments with a pay-as-you-go model
How to implement RPA so that costs correlate with gained business value.
Heatmap for Health and Social Care processes
Automation potential
High

Automation potential
Medium
| Clinical - Referrals, Bookings | Clinical - Lab/Path/Rad data handling | Clinical - Intelligent, Care path and other | Administrative - HR, IT | Administrative - Finance, Logistics | Data & Risk analysis reporting, Research |
| --- | --- | --- | --- | --- | --- |
| Referrals classification, transferring to the right unit | Classification of labpratory/ pathology/ radiology results | Intelligent OCR and NLP patient questionnaire handling | Substitute employee need estimating and ordering | Making service vouchers and commitments for expenditure | Data transfer to quality register from EMR |
| Intelligent referrals classification, transferring to the right doctor | Handling the normal results, making the EMR notes, sending the patient an SMS/ e-letterTES | Intelligent NLP structurising of prescription data | Rota planning automation | Social care financial assis-tance application handling | Official reporting e.g. waiting times |
| Structurised referrals handling – decisions on admission to care and urgency | Following the arrival of results, transferring to the doctor in charge | Care path – questionnaire, lab request form, visit booking, patient information | On/ off- boarding automations | Sales and purchase invoice checking | Risk-/resource analysis on population level |
| Making bookings for consultations and operations | Creating routine lab/radiology request forms | Services management when patient is transferred btw home and hospital | Log analysis and reporting, misuse identification | Delivery order handling | Analyzing EMR notes, identifying patients with a specified risk |
| Checking and handling free consultation times | Checking the results handling | Transferring patient questionnaire data directly to EMR | Data transfers between it- systems | Alignment of orders, purchase invoices and deliveries | Research data collecting and analysing |
Handling normal lab results and making EHR notes
A robot can classify test results, and if they are normal, make an EHR note and send patients an SMS text or e-letter.
READ MORE
Digital Workforce has e.g. automated the lab results process of sexually transmitted disease tests for a large urban Nordic Health Care Authority. Normal results occur 95 % of the time and due to automation, the doctor now has to handle only the remaining 5 per cent.
We are currently developing several variations to automate handling of laboratory, pathology and radiology results. Automation of  patient follow-up is also in definition with several customers. . A person with a chronic disease like Multiple Sclerosis (MS), can receive normal lab results from regular tests through automation and RPA can assist with patient reminders and make control booking appointments with the healthcare team.
Automating the care path
End to end automation of the health care plan begins with a person completing their digital symptom questionnaire.
READ MORE
Digital Workers transfer the data to the EHR- system, classify it, create a personalised lab request form and inform the patient.
After the laboratory test the robot classifies the results, and if normal, writes the EHR notes and informs the patient. If the results are abnormal, the robot will book a time for the doctor and prewrite a standardized prescription for the patient.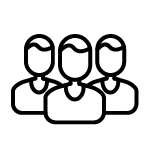 Homecare service staffing
The robot can automatically count how many additional staff are needed and request them from a temp agency.
READ MORE
In Espoo, a city of over 270,000, our robot counts how many patients are in care, how many employees are available and not on leave or on holidays and orders the temporary staff from a temp agency. This automation has helped the nurses in Espoo City home care, starting from one service area and is currently ramped up to all five service areas saving several fte, (full-time equivalent) for patient work.
Referral handling
Our robots are utilised to direct referrals to the right clinic and clinician in large healthcare units.
READ MORE
AI based machine learning is used to improve classification over time. Furthermore, when a structured referral is used, e.g. for cataract surgery, the doctor's referral decision making, i.e. admission for care and urgency can also be automated based on rules developed by clinicians.

A Digital Workforce robot currently directs people to their right clinician in a large university hospital.
ER Doctors and radiology reports
Serious patient safety incidents result from EHR systems that do not redirect radiology reports to the doctor on shift and track the handling of reports.
READ MORE
To improve patient outcomes our robots automate the radiology report handling system to notify doctors on shift and track follow-up.

Pathology and laboratory reports have similar potential for automation.
Parental allowance application handling
Digital Workforce has automated the application handling of parental allowance.
READ MORE
This is an end to end automation of the social care process with robots completing the rule-based approval of parental allowance.
Social allowances have great potential for automation as the decision- making is primarily rule-based. AI based OCR can be combined with RPA to read documents, e.g. certificates, sent as images via mobile devices.
Latest News & Resources related to Health and Social Care