Intelligent Automation is quickly transforming HR, Payroll and Travel Accounting
Giving repetitive, manual HR tasks to a robot allows HR to focus on more strategic work, employee experience and valuable interaction between employees. HR teams in large organizations know, how much manual work is involved in hiring and talent acquisition, tracking employees' time in spreadsheets and payroll. Fluent and flawless payroll with the help of a software robot increases accuracy, timeliness and compliance.
The use of software robotics is becoming more common in tasks that require a lot of control and a systematic review of large amounts of data. RPA can be utilized for the the daily processes required to manage the entire system and when large amounts of data are transferred from an older system into a new one. Robotics, on many levels can replace traditional integration enabling flexible and rapid implementation.
Increase the return from RPA investments with a pay-as-you-go model
How to implement RPA so that costs correlate with gained business value.
Setting up World-Class RPA Maintenance - Why you need it and how to set it up
This guide explores the topic of RPA maintenance and introduces the different RPA maintenance models with a view to helping you scale up your RPA programme.
Heatmap for HR and Payroll processes
Automation potential
High

Automation potential
Medium
| HR Services | Payroll | Travel Accounting |
| --- | --- | --- |
| Onboarding process support | Payroll preparation taks, Applications, Pension Matters | Travel & Expense claim processing |
| Offboarding process support | Vacation calculations, informing and entries into payroll | Travel & Expense claim payment processing |
| Employee master data maintenance | Payroll data receipt controls and handling of salary data | Travel Accounting data generation |
| Compensation and benefit administration | Salary increases | Travel Accounting vs. GL reconciliation |
| Learning and development | Salary Calculation and Payroll Payments | Reporting to the Tax Authorities |
| Vacation & absence notifications | Payroll Accounting data generation, Reconciliation & Reporting | Archiving |
Hours worked
The robot verifies the employee's hours have been recorded and makes corrections based on reports any differences compared to the shift.
READ MORE
Automated reports show if a high number of registered hours, missing hours, overtime, or usage of timeout has occurred for the supervisor to analyse.
Checking vacation balances
RPA can be applied to automatically reconcile vacation balances between the payroll system and the HR system.
READ MORE
Possible exceptions can be reported to the Payroll Team for settlement.
Payroll transfer and reports
Automating payroll data transfer reporting with RPA increases accuracy, timeliness and compliance.
READ MORE
A robot can fill the information out for each processed payroll file into a checklist according to the  ISAE standard requirements and automate payroll reports.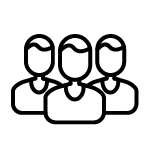 New employees and validation
Onboarding employees in the payroll system based on new employee notification forms can be automated.
READ MORE
In addition, a software robot can check the required information and report detected deviations in employee data.
Employee master data updates
Automate the transfer of employee master data into the payroll system, and note the successful transfer of each file.
READ MORE
Digital Workers can check for master data deviations and inform the Payroll Team.
Transfer of payroll data
Robots transfer data from the work-time reporting system to the payroll system.
READ MORE
When done before the start of the payroll calculation tasks prevents the calculation errors and leads to increased efficiency in payroll calculation.
Latest News & Resources related to HR and Payroll
Digital Workforce to Ring New York Nasdaq Stock Exchange Closing Bell as the first Finnish company from Nasdaq ...
Read More

→