Accelerating digital transformation in the Public Sector
Transforming services to provide excellence and security with existing staff and budgets is a common challenge facing public sector organizations from municipalities to government agencies. Digital Workers are a flexible and efficient solution to the problem.
Digital Workforce has worked with the public sector supporting government agencies and large urban municipalities since 2015. Intelligent Process Automation (IPA) and applications related to Artificial Intelligence (AI) have been in high demand. Together, these two technologies support significant productivity gains.
Södertälje – a Swedish municipality, and digital forerunner – turned to bots
to ensure effective operations and excellent customer service during the COVID-crisis
City of Oulu's successful innovation project OuluBot moves to production
OuluBot is Finland's first digital customer service agent that combines AI and software robotics. It provides residents with extensive and multichannel information 24/7.
Heatmap for Public Sector processes
Automation potential
High

Automation potential
Medium
Central Government

Safety & Defence

Education & Culture

Health & Social Care

Finance & Tax

Pension & Benefits

Justice & Control
Local Government & Non-Governmental

Health & Social Care

Education & Culture

Infrastructure & Environment

Safety & Rescue

Growth Services

Nonprofits
Value Streams
Customer Service
Case, Record & Document Management
Finance
HR
IT
Sourcing
Risk, Quality & Audit
Financial Management & Audit Trail
Invoice processing automation has been widely implemented including invoice revision and approval.
READ MORE
Many steps of the purchase invoice revision and approval process can be easily automated by a robot because the process has clear rules with relatively few applications used in their completion.
Reconciliation and Reporting
Reconciliation processes usually have high volatility and demand more resources during peak periods.
READ MORE
This makes reconcilitation and reporting ideal tasks for a scalable digital workforce. Digital Workforce supports automation of general ledger reconciliation, fixed assets activation and reporting.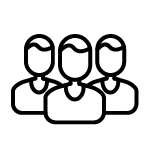 Human Resources
Automation in HR can range from employee onboarding and imbursements to payroll processes and vacation.
READ MORE
Digital Workforce enables automation of HR supporting processes that often demand manual work.
Data Migrations
IT departments usually have scarce resources and a lot of manual processes involving several different legacy systems.
READ MORE
This creates opportunities for automation. Digital Workforce is actively working on data migrations, creating and updating access rights, receiving temporary help for integrations.
Form processing
Municipal government services use web portals and emails that residents can access to complete forms.
READ MORE
These channels are used to apply for services and support. Digital Workforce can assist in transforming routine service enquiries such as facility rentals for events by the public and automating applications for improved customer service.
Latest News & Resources related to Public Sector
Our webinar "How Intelligent Automation can remove the digital disadvantage from Building Societies" went live on the 22nd of ...
Read More

→