Powering customer service with Intelligent Automation
Companies across industries are adopting intelligent automation as part of their digital transformation strategy to become more efficient, boost customer service and increase revenues. Service-oriented companies, e.g. in retail, financial services, business consulting, hospitality have improved customer satisfaction, compensated for shortage of human workforce and become faster and more accurate in operations by utilizing Robotic Process Automation and Artificial Intelligence.
Digital Workforce has worked with a wide range of service-oriented companies saving time and money, ensuring error-free delivery and improving business processes. Customers benefit when service agents are available and empowered to respond to requests. Transforming non-integrated systems and reducing repetitive steps is possible.
Ask Me Anything
about Customer Service Automation
Empowering agile customer service with RPA - Case Toyota Material Handling
Toyota Material Handling Norway AS (TMHNO), a leading supplier of material handling equipment, uses Robotic Process Automation to improve customer experience and build competitive edge.
Heatmap for Customer Service processes
Automation potential
High

Automation potential
Medium
Channel specific communication

Back Office (2nd line)

Other

Phone

Routine request fullfilment

Invoicing queries

Chat

Problem solving

Claim handling

Email

Routing to 3rd level teams

Product/Service specific process

Portal

Apps
Integrate web fronts to old legacy
RPA can assist efficiently in the process of copying data from customer emails or web-forms.
READ MORE
The team e-mail inbox response can be automated to select the CRM or ERP systems and classify customer inquiries.
Automate incoming emails
Large customer service units have front line staff handle incoming mail ensuring requests end up with the right team.
READ MORE
Intelligent process automation releases team resources for more value added tasks.
Retrieve Custromer Orders
Suppliers may have to use business systems or extranet portals that require staff enter data online.
READ MORE
Retrieving data from a portal or entering data to an ERP system can frequently be a time consuming and error prone activity RPA can automate the cutting and pasting required for procurement forms and simplify the process for large business and suppliers.
Automate mass activations
Mass campaigns to activate customers can flood the customer service team unless the onboarding process is fully automated.
READ MORE
Digital Workers can handle routine requests for new service activation bridging a gap until the onboarding process is fully automated or balancing the work load during transformation of the new processes involved.
Plan workforce
Many companies already use robots for creating a baseline plan for their workforce.
READ MORE
Balancing resources and demands is mainly based on simple rules, forecasting, and agent qualifications. Automation can create a plan for the Team Lead to finetune and finalise.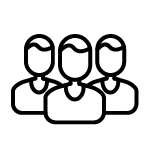 Manage peak loads
Resourcing front line client service teams can be challenging due to fluctuating seasonal and peak demand times.
READ MORE
Automation can tackle peak loads with greater flexibility according to your resourcing plans and availability of part time staff.
Latest News & Resources related to Customer Service
Digital Workforce to Ring New York Nasdaq Stock Exchange Closing Bell as the first Finnish company from Nasdaq ...
Read More

→