Indem sich wiederholende, manuelle Aufgaben im Personalwesen Robotern überlassen werden, kann sich das Personal auf strategischere Aufgaben, die Mitarbeiterzufriedenheit und die wichtige Interaktion zwischen Mitarbeitern konzentrieren. Personalabteilungen in großen Unternehmen wissen, wie viel manuelle Arbeit mit der Personaleinstellung und -akquise, der Erfassung der Arbeitszeit in Tabellen und der Lohnabrechnung verbunden ist. Eine reibungslose und fehlerfreie Lohnabrechnung mithilfe eines Software-Roboters erhöht Genauigkeit, Pünktlichkeit und  Regelübereinstimmung.
Software-Robotik wird immer häufiger für Aufgaben genutzt, die viel Kontrolle und eine systematische Überprüfung von großen Datenmengen erfordern. RPA kann für tägliche Prozesse eingesetzt werden, die eine Verwaltung des gesamten Systems mit systematischer Änderung erfordern, wenn große Datenmengen aus einem älteren System in ein neues übertragen werden. Robotik kann auf vielen Ebenen die traditionellen Softwareschnittstellen ersetzen und so für eine flexible und schnelle Implementierung sorgen.
Heatmap für Personal- und Lohnabrechnungsprozesse
Automatisierungspotenzial
Hoch

Automatisierungspotenzial
Mittel
| HR Services | Payroll | Travel Accounting |
| --- | --- | --- |
| Onboarding process support | Payroll preparation taks, Applications, Pension Matters | Travel & Expense claim processing |
| Offboarding process support | Vacation calculations, informing and entries into payroll | Travel & Expense claim payment processing |
| Employee master data maintenance | Payroll data receipt controls and handling of salary data | Travel Accounting data generation |
| Compensation and benefit administration | Salary increases | Travel Accounting vs. GL reconciliation |
| Learning and development | Salary Calculation and Payroll Payments | Reporting to the Tax Authorities |
| Vacation & absence notifications | Payroll Accounting data generation, Reconciliation & Reporting | Archiving |
ARBEITSSTUNDEN
Der Roboter verifiziert die Erfassung der Arbeitsstunden von Mitarbeitern und nimmt basierend auf Meldungen über Schichtabweichungen Korrekturen vor. 
Weiterlesen
Automatisierte Berichte zeigen, wenn eine besonders hohe Anzahl erfasster Stunden, Fehlstunden, Überstunden oder genommene Auszeiten vorliegen, die der Schichtleiter auswerten muss.
URLAUBSKONTINGENT PRÜFEN
RPA kann angewendet werden, um Urlaubskontingente zwischen Lohnabrechnungs- und Personalsystemen abzustimmen.
Weiterlesen
Mögliche Ausnahmen können dem Lohnabrechnungsteam zur Abwicklung gemeldet werden.
LOHNTRANSFER UND -BERICHTE
Die Automatisierung der Lohndatentransfers und -berichte mithilfe von RPA erhöht die Genauigkeit, Pünktlichkeit und Regelübereinstimmung.
Weiterlesen
Ein Roboter kann gemäß den ISAE-Anforderungen Informationen für jede bearbeitete Lohnakte in eine Prüfliste eintragen und Lohnabrechnungsberichte automatisieren.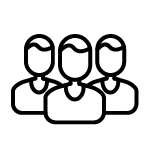 NEUE MITARBEITER UND VALIDIERUNG
Die Eingliederung von Mitarbeitern in das Lohnabrechnungssystem basierend auf Benachrichtigungen über neue Mitarbeiter kann automatisiert werden.
Weiterlesen
Zusätzlich kann ein Software-Roboter die erforderlichen Informationen validieren und erkannte Abweichungen in den Mitarbeiterdaten melden.
MITARBEITERSTAMMDATEN AKTUALISIEREN
Automatisieren Sie den Transfer von Mitarbeiterstammdaten in das Lohnabrechnungssystem und notieren Sie den erfolgreichen Transfer jeder Akte.
Weiterlesen
Digital Workers können Abweichungen der Stammdaten validieren und das Lohnabrechnungsteam informieren.
TRANSFER VON LOHNABRECHNUNGSDATEN
Roboter übertragen Daten aus dem Zeiterfassungssystem in das Lohnabrechnungssystem.
Weiterlesen
Erfolgt dies vor Beginn der Lohnabrechnung werden Berechnungsfehler vermieden und die Lohnabrechnung erfolgt effizienter.
Kontaktieren Sie unseren Branchenexperten
oder füllen Sie das Kontaktformular aus.
Ritva Widell
+358 40 722 3505
ritva.widell(at)digitalworkforce.com
News und Ressourcen des Bereichs Personalwesen und Lohnabrechnung
April 28th at 8 am BST (10 am EEST) Webinar: Why should you upskill in RPA right now? ...
Sorry, we couldn't find any posts. Please try a different search.