Unternehmen aller Branchen nutzen intelligente Automatisierung als Teil ihres digitalen Wandels, um effizienter zu werden, den Kundendienst zu stärken und den Umsatz zu erhöhen. Dienstleistungsorientierte Unternehmen, wie z. B. in den Bereichen Einzelhandel, Finanzwesen, Unternehmensberatung und Gastronomie, haben durch robotergesteuerte Automatisierungsprozesse den Arbeitskräftemangel kompensiert und schnellere sowie genauere Abläufe etabliert.
Digital Workforce arbeitet mit zahlreichen Dienstleistungsunternehmen zusammen. Sie sparen Zeit und Geld und sorgen für eine fehlerfreie Lieferung und bessere Geschäftsprozesse. Kunden profitieren, wenn Kundendienstmitarbeiter verfügbar und in der Lage sind, schnell und effektiv auf Anfragen zu antworten. Die Umstrukturierung von nicht integrierten Systemen und die Verringerung von sich wiederholenden Schritten ist möglich.
Heatmap für Kundendienstprozesse
Automatisierungspotenzial
Hoch

Automatisierungspotenzial
Mittel
Channel specific communication

Back Office (2nd line)

Other

Phone

Routine request fullfilment

Invoicing queries

Chat

Problem solving

Claim handling

Email

Routing to 3rd level teams

Product/Service specific process

Portal

Apps
WEB-FRONTENDS IN ALTE BESTANDSSYSTEME INTEGRIEREN
RPA kann effizient dabei helfen, Daten aus Kunden-E-Mails oder Internetformularen zu kopieren. 
Weiterlesen
Die Beantwortung des Posteingangs eines Teams kann automatisiert werden, um CRM- oder ERP-Systeme auszuwählen und Kundenanfragen zu klassifizieren.
EINGEHENDE E-MAILS AUTOMATISIEREN
In großen Kundendienststellen kümmern sich Mitarbeiter mit Kundenkontakt um eingehende E-Mails, damit Anfragen beim richtigen Team landen. 
Weiterlesen
Eine intelligente Prozessautomatisierung gibt Teamressourcen für wertschöpfendere Aufgaben frei.
KUNDENAUFTRÄGE ABRUFEN
Anbieter müssen eventuell Geschäftssysteme oder Extranet-Portale nutzen, die Personal zur Online-Eingabe von Daten erfordern. 
Weiterlesen
Das Abrufen von Daten aus einem Portal oder das Eingeben von Daten in ein ERP-System kann häufig zeitaufwändig und fehleranfällig sein. RPA kann das für Bestellformulare notwendige Ausschneiden und Einfügen automatisieren und so den Prozess für große Unternehmen und Anbieter vereinfachen.
MASSENAKTIVIERUNGEN AUTOMATISIEREN
Massenkampagnen zum Aktivieren von Kunden können das Kundendienstteam überfordern, wenn der Eingliederungsprozess nicht vollständig automatisiert ist.
Weiterlesen
Digital Workers können sich um Routineanfragen für neue Serviceaktivierungen kümmern und so die Lücke füllen, bis der Eingliederungsprozess vollständig automatisiert wurde, oder die Arbeitslast während der Umstellung auf die neuen Prozesse kompensieren.
MITARBEITER PLANEN
Viele Unternehmen nutzen bereits Roboter, um einen grundlegenden Plan für ihre Mitarbeiter zu erstellen.
Weiterlesen
Das Gleichgewicht zwischen Ressourcen und Nachfrage basiert hauptsächlich auf einfachen Regeln, Prognosen und den Qualifikationen des Mitarbeiters. Mithilfe von Automatisierung kann ein Plan für die Teamleitung erstellt werden, um den Prozess im Detail abzustimmen und abzuschließen.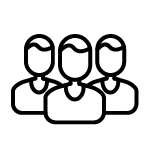 BELASTUNGSSPITZEN BEWÄLTIGEN
Die Besetzung von Kundenserviceteams mit direktem Kundenkontakt kann aufgrund von schwankenden saisonalen Gegebenheiten und Bedarfsspitzen eine Herausforderung darstellen. 
Weiterlesen
Durch Automatisierung können Belastungsspitzen entsprechend Ihren Einsatzplänen und der Verfügbarkeit von Teilzeitmitarbeitern mit größerer Flexibilität bewältigt werden.
Kontaktieren Sie unseren Branchenexperten
oder füllen Sie das Kontaktformular aus.
Teemu Vieruaho
Head of intelligent automation
+358 50 520 3853
teemu.vieruaho(at)digitalworkforce.com
News und Ressourcen des Kundendienstes
April 28th at 8 am BST (10 am EEST) Webinar: Why should you upskill in RPA right now? ...
Sorry, we couldn't find any posts. Please try a different search.